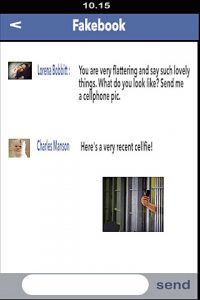 Despite Khrushchev, we flower-power, braless, 'free-love era' accidents of the 60 – 70s had the best life could offer, with Juicy Lucy to Pink Floyd rock, original filthy jokes, head hair indistinguishable from pubic, Blue Nun, wondering if Harold Wilson was really a commie or did Lyndon B Johnson do it. White women started going with black men, but not much the other way around, until primitive social media convinced us 'we'd never go back'.
Now we have fake watches, fake caller IDs, fake emails, fake friends and 'Fake News'. Endless, inane and repetitive 'Fakebook' posts which is worse than fake orgasms. Yes! You pretend agreement to your friends by giving them 'Likes', answering yawning post which ask if you can answer or match 5 out of 10 questions or scenarios, so now you are asking yourself how many of the above you've experienced. Oh really? Was it Oscar worthy?
The never-never land 'millennial' phantasm brats of today are optimistically blind believing we are heading for better things. It is hip to be radical and destructive but blame everyone else. They would rather cull wise foxes or club seals than useless human proliferation which now swamps us. Back in the 60s hippies had 'love ins', 'together ins' and even 'wad ins' whatever that was. One favourite old joke was the guy walks into a library and asks for a list of standard novels which were not available, so a little exasperated snapped at the hippy librarian; 'What about Dicken'? to which she replied; 'I don't know, I've never been to one'.
You feel empowered by posting pro Jeremy Corbin like ideology and anything anti Trump all over Facebook because you think you are influential. You believe you are abstractly more intelligent than selfish reality, which you abhor as amoral capitalism? Your attitude is your God given right to impose 'your' dogma and indeed sexual appetite on the rest of the world and have a posse of kids who you will condition and whose welfare you fully believe everyone else should support. Fair enough! Maybe you should write a monthly column for a magazine then.
Once you radicals are potty trained into 'reality' perhaps you will actually question this constant, perverted media brainwashing, get off your fake moral arses and contribute by parting with your own hard earned dosh to feed this demented 'I deserve – you owe me' 'churn 'em out' ideology of equality. What you support contributes nothing back and will eventually drain all resources until we physically eat each other.
Radical 'ANYTHING' is a cerebral-cortex sickness more prevalent than Ebola. Just look at the state of some countries today steeped in ideology gone viral. Victims of hunger are fawned over pinning blame on the buoyant. In our first world, victims of heinous crime have no say, no rights, yet perpetrators are heroes and mollycoddled. It is all so 'Twin Peaks' like – where he says; 'The urge to be bad is so overwhelming'.
'It really is a sin to be white now'. This perverted ideology, bloated and obsessive Political Correctness tries so hard to kill off humour, forcing us into oblivious delusion. It's like the 'free world' is now emulating the Third World for control with apologists and appeasers taking us back. We can no longer make simple puns without fear of media wrath and parrots regurgitating a lynching or receiving heavy fines or jail just for being funny.
Even the dearly loved 'double entendre' has been relegated to the; 'That's so offensive' filthy cesspit of unacceptable dalliances, yet TV and films propagate more filth, violence and despicable language. Homosexuality is taught in schools at age 5. Nobody is 'allowed' to argue. Thankfully in Bahrain we are still in the 60s PC wise and by default, religion is wholly partisan and indeed racist in so many ways, yet cosmopolitan personified at the same time. Sure, most language puns will go high over the abiya or ghutra, but don't underestimate the humour! Can you imagine, somewhere in Europe, a Bahraini accidently walking into a multi-racial Lesbian bar called 'Quality Street'. There in glorious colour is a poster proclaiming 'Clitoris Allsorts' and curiosity becomes an urge. A butch Martina Navratidykeski bars him at the door exclaiming; 'We are lesbians'! In broken English, he'd retort; 'I am from Bahrain, which part of Lesbainia are you from'?
If you think that bad or risqué, 14th century ideology would have got you headless just for suggesting the world was round, despite Facebook telling us that it could not be flat or cats would push everything off it. Bawdy saucy Chaucer with his 'Canterbury Tales'certainly pushed buttons and more with his classic double entendre 'Queynte' being used throughout. Utterly lost on 21st century society, but then it meant women's work as well as slang for their genitalia. Who'd have thought? If you say it fast, you see where today's word comes from.
Oh yes, Charlie Dicken's would have no doubt parodied his own name had Dicken's Cider been invented during his time. As it was, who on earth would now dream of calling a character 'Master Bates' in a TV series or novel, as he did in Oliver Twist?
There is nothing more inaccurate than the notion that 'English is the international language'. It is NOT English, it is a concoction of 'pidgin' droppings and bad grammar which is fine and dandy in conversation or buying something in a shop but it should be kept well away from influential broadcast/media, schools or nannies for that matter. Why is gold so precious? Well, it takes a large population of millions to produce just one artistic genius or any vocation for that matter, but when there is no perceived qualification required for the intangible arts or product, then standards disintegrate to dust eventually. Advertising (an art) and broadcasting (an art) in all its forms in Bahrain and across the region so often produces hideous embarrassment. "FEELING STATION NOW OPEN" – sounds like an interesting place. Sing song news readers and old but gold; 'A navy jet crashed in the North Sea this afternoon but the pilot ejaculated to safety', well lucky him. We have presenters, spieling nonsensical garbage and zero content respectively about the time and frequency aimed at 5 year-olds. Welcome to Bahrain. It wasn't like this 25 years ago.
Sadly, awareness is near zero too. Huge banners on every lamppost proclaiming; 'NEWER AIRCRAFTS", shop signs with "WELCOM ENGLISH SPORKEN HERE" – "KNOW BARKING ON BAYMUNT" and newspaper classifieds; "SOFA AND BED SHIT FOR SELLING". Familiar? We even have 'MILF TAILORING'? Now the mind boggles. It is not just Bahrain;BUT WE SHOULD BE RISING ABOVE THIS with so much more pride. That is difficult when a huge chunk of the population are expatriates many of which can't write their own language let alone speak a modicum of Arabic or English.
There is not a mother tongue English speaker who understands what 'brosted' means, but whatever it is they do it to chickens. The British or American DO NOT 'avail' themselves of anything except in a massage parlour perhaps- and please don't call us 'pumpkins' with your endless pishy, same script radio commercials. This bastardized English is all over the world, on every street and in all households now, with the Indian accent the most dominant. How quick was that? It was just a short decade ago, that only the dexterous Dutch spoke English fluently enough for commerce, without the aid of American movies. The British were so grateful especially if they just shouted louder to be understood in foreign countries. The rest of world were still singing Frère Jacques and struggling with 'Dick and Dora'. Fortunately, most Bahrainis speak an amount of English and the Arabic flavor compared to some country accents is quite pleasing to hear 'in conversation', especially soft-spoken female.
At great risk of shattering the egos and delusions of some of the nicest guys one could meet – having this heavy accented farrago broadcast-pumped into one's ears by the likes of the BBC or our own local radio and TV, generally and tediously tires one out as quaint as it sometimes sounds. The 'IFOLD TOWWER' and 'ION FISHER' sort of have a ring to them. The appalling IVR systems (Interactive Voice Response) are just atrocious, but nobody cares or perceives it as bad and culprits innocently can't hear themselves. Conversely, a foreign presenter speaking broken Arabic has more chance of Stealing Mozart's Yamaha synthesizer from the back seat of his Lamborghini in a shopping mall, than being accepted to broadcast on an Arabic channel. So why torture the English?
We now have Radio Bahrain amateurishly advertising on its own airwaves for DJs and presenters, knowing full well they mean only Bahraini need apply. This will not improve quality, professionalism or bring the art to any perceived standard 'to aspire to' whatsoever. In fact, having to advertise for talent on your own airwaves, is totally unheard of and unethical anywhere else and really does depict the level of absent professionalism.
All major countries have 'professional' English channels with native language speakers anchoring. It is all for international 'POLITICAL CREDIBILITY', not just because a few expats are resident. If there is to be an English language station, then hire proficient, professional, "talented" English speakers (of any nationality) and stop all the inept jingoism.
Bottom line; slick professionalism and boodles of content are what's needed to create something to aspire to, not more mumbo jumbo, which so few listen to, especially with the might of the Internet crushing radio and TV to insignificance if it doesn't compete at extraordinary levels of competence. Sadly, there is about as much chance of attaining such a desired mature platform here as seeing a transgender toilet installed in the City Centre.
Radio Bahrain was a tower in its heyday (not a towwer), until that fell down one day – and loved to death with an air of freedom and wellbeing and fabulous for tourism. But wannabe amateurs and wholly incompetents, flying the National Flag, given gauche positions in authority reigned. Naturally intimidated by the few sitting competent they gradually committed a sort of genocide, cleaning out any potential threats. It is now an oblivious embarrassment so just close it down if you can't provide the goods.
It was fixed! It was fixed! As everything about Europe is. Soppy, blatantly political, sentimental appeasing agenda, It's a good job Vlad was busy with his own ego and dumbbells, cruisin' on his Shetland pony Harley while the 'Eurovision Song Contest' (never heard of it) was on or he might have accidently on purpose leaned on the button.
What has the Eurovision Song Contest (never heard of it) got to do with life on earth anyway? God was cruel for what a dank bunch of contestants they were at that. Backstage barking was even heard. Someone tweeted that all the songs sounded like they were written by Cold Play but never mind, cop the ludicrous costumes. The only thing missing for most was a herd of lamas.
Pathetically voting Ukraine the best song when it was anything but, there is a huge petition to have the result annulled. Get a life! Well call it diversity if you want and equality for the less privileged/underdog/afflicted but Reality TV has obviously gone too far as have the oblivious Fabian Reich, Nazi Liberal Europe in general. Constantly kowtowing, appeasing and descending to the lowest common denominator to equalize (except them).
It is official; Australia is now in Europe, not that the song presented by Dami IM (Never heard of her) stood a chance. Only pervs and fur trade votes floated her way due to several tasteless up-skirt shots desperately displayed… um… ostensibly designed to show off the tailoring draped around this Korean singer. Yes, a European Korean from European Australia. We can't wait for Bangladesh's entry next year.
More banal than a country and western song where; 'she ran off with a cowboy and blinded by tears he ran over the kids and the puppy', the pish Ukraine song might as well have been about the Malaysian 777 that was shot down by Russian separatists – allegedly. Oh – it was? Obama with the Nobel Peace Prize just for breathing and now the Ukraine entry glorified. What a desperate arrogant bunch who rule us.
You never thought it possible but it was worse than Bahrain TV. Whoever directed this Euro garbage needs to learn the art. It ranks Amateur Ville Horror (as does the TV ads for Brussels Air). It was more amateur than CNN's ludicrous zooms and ridiculous face turns to the camera as they incessantly promote their egomaniac under-par journalism. Not one single zoom-in shot of these ham artists was complementary yet the crowds cheered on and on…. and on. It proves the fodder of this world are firmly in control and now working in media. Martin Österdahl (never heard of him) was the Executive Producer and one can only assume by his name and umlauts that he is not Korean.
Minus the Windsor-knot, but perhaps sporting a jock strap, supposed comedienne (that's a laugh for a start) and main host Swede Petra Mede Måns Zelmerlöw (never heard of her), oh wait – that's two people, came out towering over her mousy little friend. Draped in coruscating (never heard of it) painter's overalls, obviously covering lumpy Kevlar, she looked positively monstrous against her, by comparison wimpy looking co-host. Zelmerlöw apparently won the 2015 epic (never heard of it) with an equally naff attempt to rouse the Y fronts and mummy knickers off us – called 'Heroes'. "We are the heroes of our time – dancing with demons in our minds". Roget's Rhyming dictionary has a lot to answer for.
Mede's unfunny scripted, cornball, nonsensical, drily lines were read staccato from a crib card she so openly held. Rave revues and the moronic crowd cheered every single syllable and cried along with the Ukrainian winner as she took the stand for the biggest con in television this year.
What a bunch they were; Zaa Sanja Vucic from Serbia actually came on as a Korean dressed as Bat Woman. Bulgaria showed some pleasing looks draped in what appeared to be engine parts from a space ship as she whacked her legs in and out like a good cello player. A jiggy little song too, albeit wholly Turkish – who are NOT in Europe yet!
Jesus from Poland resurrected as Michat Szpak (never heard of him either and don't try saying his name) literally displayed his tonsils. Choreographed by the Filipino band in the local hotel, he didn't stand a chance with all that deep and meaningless hand motion obviously learned from the European Highway Code as did most of the other singers, especially 'Bare' from Spain. She would have passed her test first time. Mary had a little lamb, she also had a bear, we often saw her lamb, but never saw her bear.
Cyprus's entry 'Alter Ego' by 'Minus One' (or was it the other way around) rocked along very nicely, but it was like watching the Muppets mimicking Def Leppard with less hair.
Then Hovi Star of Israel displayed his obsession and leanings as he pointlessly appeared in replica to Adam Lambert. Remember the brilliant Lambert made second place in the 2009 'American Idol' but should have come first. Middle America would not have approved his pillow biting exploits in colour if he had (worse than Paris Hilton), all disclosed a week or two before the final. Fixed – of course! Now if Star had done the same, 'let's make everyone gay' Europe must surely have voted him No.1. What a dilemma for the politics that would have been, so they might just as well 'stayed home.
The local Agencies in the area are probably the only ones who criticize me and have an unhealthy dislike of me, because they see themselves in the criticism I highlight and can't take the hit, so in retaliation dish out plenty on me. Fortunately, the general public who happen across my vitriol invariably agree with me.
There is no such thing as 'constructive criticism' in media in this part of the world.  The closest you will get to it is perhaps religious concerns whereby a billboard shows a half naked lady (man ok) whereby some will obviously make the point that this 'will', (not 'could') offend people.  Rightly so and any Agency trying to sell their product with sex in this part of the world will surely run the gauntlet of the reverse of their intension happening. A total boycott maybe. But having said that, a little bit of sex goes well, if there is some very subtle ambiguity attached. I don't really mean like the new Etihad TV campaign -  'She likes it full on'  – whereby they give the run down of how their passengers 'Like it' in the 'mile high club'. Sounds very Hogan to me. That is effective, but rather blatant and over the top of heads here anyway, as it doesn't translate well into Arabic.
Here, artistic criticism comes in the form of  'NO, DO IT LIKE THIS', emanating from minds and mouths of
Well wonders never cease.  I fight for you the public, or at least the public with a gram of sophistication who deserve, demand and wish for better media. I dream of the day when the masses will discern the difference between absolute crap and get what you pay for.  I take a lot of criticism and according to some I even take considerable risk in this warm, closed society for there still remains some of the old small time  "I HATE GEG HOPKINS" brigade out there. Those very same people who in their intimidated bigotry created more and more interest in me.
When all is said and done, I do it alone………  or do I?  Read more
It really does seem to be bad for many in the arts right now. I would like to say 'creative media', but I must have missed any that might have been lurking about in the last few years.  Locally it is as dire as ever and in the Gulf,  if not government owned radio, it would all be in deep deep dollops of it now.  Outside of America the story is pretty much the same, yet ridiculous, childish, arrogantly incapable and naive cliques are running the radios with heavily formatted, massively boring output just the same and nobody but nobody can tell them different.    Hollywood is still the first and last bastion of everything clever and the plethora of mediocrity out there in the form of TV satellite channels leech onto anything going.  What the hell would they do without it?
Across the Middle East (where I am), there are loads of channels all doing what I don't know, but the larger Showtime and Orbit, must be so proud to boast that they produce absolutely nothing of value Read more
We cannot really say that it is history repeating itself, but there is a familiar smell and in the Arab world in general, there is no smoke without fire FULL STOP! Some time back, there were murmurs within the clan about Coast Radio (Fujeira) being in a spot of trouble; not only rumours of nonpayment of wages, but also the niggling transmission problems that has dogged the station. (For international readers; Fujeira  is in the United Arab Emirates, over the black Al Hajar mountains from Dubai), I also suspected that the Murads out at Ajman, the current kings of 'sock it to me baby' independence and Channel 4 FM, had bunged Fujeira Media a wad and Emirates Neon Group (ENG) a wave Read more
Since Internet broadband speeds reached MP3 levels, Radio in many places has lost its way completely, plus of course, to talk about music all the time as the be all and end of the station's output, masks or attempts to make excuses for the pathetic talent, or lack of, we see presenting it. Get over it!  Radio stations no longer have the music monopoly and why should an enthusiast wade through hours of pap listening for something he or she might like, when all is available at a click. So really, presentation is everything, but so few realize it, even argue against it. It is not only in the Middle East where this cache of mediocrity reigns supreme, half of Britain is pretty dire and obviously these presenters cannot hear themselves for no matter how many years in the business they never change or improve and they keep on turning up. If you are one of these deluded stars reading this right now, don't worry, because you will not assume I am talking about you since most could never believe they are awful and just like me, go on and on and on as to how great we believe we are, reeling off time checks and station clichés between every three records. Read more
The name Geg Hopkins was pretty much the be all and end all of radio and production across the Gulf in 80s and even through until now really, although the aspects of the industry have changed considerably. I came in just after Graham Carter Dimmock, he of Episode Six the forerunners to Gillan, Deep Purple and on. Graham was Eagle Studios and was and probably still is quite brilliant and had an excellent radio voice, but left the area in the early 80s. Not only technically, but direction wise, Graham Dimmock knew exactly what he was doing and a hard act to follow. Everything he did sounded FAT and I still have the old 16 channel mixer he used out in my back shed. Wanna buy it?  So that was a sort of benchmark in the area for a while. Read more
July 2007 – Pro Audio Magazine
Virgin Atlantic obtaining rights to fly in and out of Dubai and Sir Richard himself making the all important personal appearance, immediately prompted a flurry of interest in anything else Virgin. In the case of the newly established Fujeirah Media with their license to open two FM stations out of the Emirate, it was more an egg before the chicken affair and ostensibly the idea of Mango Media Chairman Mekki Mahmoud Abdulla. By now a credible radio consultant, Abdulla was summoned and infrastructure started appearing with ideas on how to brand the English station. An approach was made to Virgin Radio UK, but this was the wrong camp as Abdulla found out and promptly set off in the other direction out to Singapore and Virgin Radio International. Abdulla has a real story to tell as far as Gulf radio is concerned having been instrumental in the establishment of many stations throughout the UAE and now owns Mango FM in Sudan. Born in Sudan to a Sudanese father and a British Mother, Abdulla now 'sort of' hails from Carnforth in Lancaster where he studied mass communications at Lancaster University. He even speaks with a Lancaster accent, mixed up with some Arabic overtones. Dividing his time between Dubai, Sudan and the UK, Abdulla quips: 'I don't know where I am from anymore.' His primary desire was a job in media, but bizarrely started out selling exotic fruits in England way back at the turn of the decade in 1990, when he heard a radio spot advertising for salesmen.  In 1992 he joined 'The Bay' FM and got the bug, explaining: 'I had a great Managing Director by the name of Julian Allitt, a man with a vision about radio and he spent a lot of money on training me using American trainers and he was very serious about his business.' Taking the position of Sales Director, Abdulla started to think about where he could start a radio station other than the UK, which compared to the Middle East was so much more expensive. Having done some sales work with Abu Dhabi Television prior to his move to UK, Abdulla knew the UAE well and was discerning about the advances taking place in the Emirate. Squeezing not only his time, but also his credit card limit, Abdulla traveled back and forth from the UK to Dubai every weekend, sniffing out opportunity without much initial success.
One tedious venture that led to great disappointment Read more