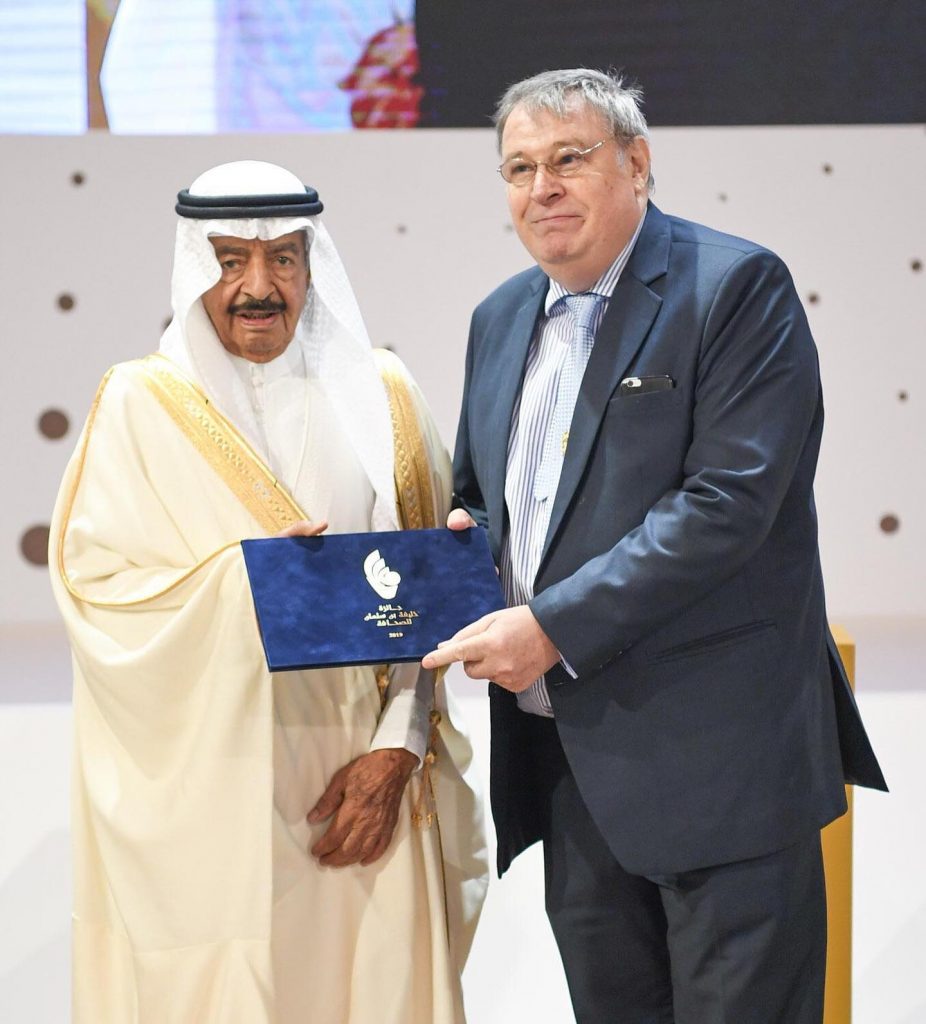 October 2019: Geggyboy very recently received an award from His Royal Nibs. It was a Bahrain based award, not a Nobel Prize, but judging by the response, you'd be forgiven for thinking it was the latter.
Was I ecstatic? As a mere subject, the privilege of being up there and greeted by H,R,H. is always a belter of a thrill because it doesn't happen very often at all! In the old days of a few hundred thousand population we got to see the Rulers a little more often and security was not an issue. But with a few million packed in now and world seemingly so much more upside down, these occasions are becoming very rare. Another nicety is that the PM will often have a personal little word to some of us by name (like his late brother and Amir; Sheikh Isa bin Salman Al Khalifa, they have uncanny memories and recall faces and names better than elephants). That personal touch makes me feel a bit special for being recognized, because I being far from Mr. Pushy, don't expect it or even think about it, but I do know he knows me well and was a 'fan' so to speak from my heydays of radio.
I assume this award reflects some of those rather open and fun days before my tenancy was cut short by insidious intimidation from those not able to compete at my level, so ganged up and lowered the standard to the lowest common denominator to feed their deluded ego. (I went to TV afterwards, which unfortunately so few watch). This is what we have now with Broadcast Media in Bahrain at such an incredibly low ebb compared to the incredible openness, content full and fun days of the 80s and early 90s, that it was. Nowadays, it is inanity, twitter fed and absolute incompetently zero with an entire generation who know no different and actually believe it to be good still, having absolutely no inkling as to what entertaining radio should sound like. This is also happening all over the world as Political Correctness dominates and humour fades or becomes illegal and blandness prevails like a blanket of thick haze. Like banning something, it all goes underground and Social Media has provided that platform.
Radio was/is my passion though and I know many think it was the hierarchy who removed me, because of my antics and humour, but trust me, far far far from it… They were totally unaware, thinking it was me who resigned. If there is a God – retribution will surely prevail, for it was vicious! Though one man will be waiting for them upstairs, ready to dish out the divine punishment they um…er… gravely deserve. Mr. Ahmed Suleiman (father of Hala Ahmed Sulaiman) built Radio Bahrain to its earlier terrific standard, a standard which among us was wrongly diagnosed as amateur at the time, so striving for better content always, we were highly critical of ourselves. It was in fact world class, give or take the odd scruple. Oh, I made some crawl under a rock beauties, but we were aware. Today, it is the blinkered blind leading the blind with no perception of how amateur they come across having no qualified guidance to relate to. Ahmed loved my style from the start and ignored immense pressure to err to safety and blandness. For sure, he will never forgive those who manipulated and endlessly fought him to have me removed and indeed himself from time to time. He well knew the implications and future demise of the platform if he allowed the dirge to overpower him. Since his (forced) retirement and subsequent death (bless) many years ago now, mediocrity has all but destroyed his legacy, but he will always be remembered with great fondness.
But broadcast, be it right up to lunch time of the day of my demise, I guess I will be still at it. TV, Radio and now Social Media or whatever, is where I am and it is too late to change (unless someone offers a fat, no refusal salary vocation change, then I will empty bins, or sweep the streets – if my legs hold out, no worries).
Am I aware of how many follow my dribbles or mini reports or even the documentaries I do. Nah! I assume some incidental notice, here and there, but there is absolutely no delusion of this pseudo pap glitterati and new-fangled word; 'Influencer', some of which receive millions for just pointing at a lipstick in a selfie video shot whatever. It is all pish to me and iPhone level media.
Award? One perceives the so-called 'broadcast standard' or one doesn't, it is art. I just love and at the same time hate what I do because of the time it takes to reach what I feel satisfied with. So to get a general award like this, along with the others, who also very much deserve recognition, albeit a very different avenue and style… Yep! It is bang on! I've got it and they are NOT having it back!
But did I realize the impact of it? NO! Not at all. I was oblivious until now. If you look at our Social Media accounts, they have gone slightly bananas. Just our Facebook Whodoeswhat.tv channel has lit up. Instagram likes are growing by the second. THANK YOU ALL!! THANK YOU – THANK YOU, we have read every single message and like!
Also a personal huge spot light up for Ahdiya Ahmed who is now leading the Bahrain Journalists Association and bringing them to the fore big time, where this has never really happened before. Ahdiya has always supported me (and others who might be lesser known) and often under some severe criticism and obstruction has had the biggest balls to ignore it and give me almost free reign at TV. With integrity, one must not knowingly break that trust. Of course it is par for the course to rattle someone's cage in this business.
Many people; names I don't actually know, all the way up to Royalty, who have gone out of their way to congratulate me, Numerous and incredibly personal congratulations have been received with the genuine warmth of ordinary citizens who may never come into diplomatic or royal circles. In this line of work we of course do by default as we make reports etc. for the Al Hilal Media group magazines and online channels and so on. Whatsapp messages have poured in, some telephoning me or indeed calling over at functions etc. along with others, then offering up congratulations. It is becoming astounding as to how the media surrounding this award has propagated.
Admittedly, I am a bit of a dinosaur when it comes to all this Social Media lingo – and although I might have a Twitter, Instagram et al account which I DON'T use, as I said before, it was NOT me that set them up but the IT wiz and (cough….Forbes Magazine featured photographer of Who Does What.TV,) namely Svetlana Prodanova who happens to be extremely proficient at it and she informed me today that we have gone a bit 'viral'. I hope it doesn't hurt. Wow!