13th July 2018
"THE MARCH OF THE SNOWFLAKES"
A comment zooming by among the thousands of pro Trump remarks flashed upon the screen as the Daily Express covers the utter waste of life and time in Parliament Square today. However, to follow, ney believe the main-stream media, the entire country, down to the last man, women, cat and dog is in lynch mob mode.
Proud to be a 'Remainer Snowflake'???????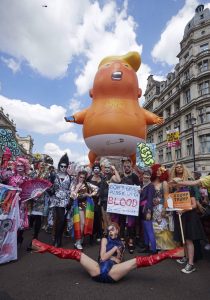 Democracy has certainly become 'all Greek' to most it seems as it loses its way ever more deeper each passing month.
Lots of questions need answering, the least being; 'How come so many people are not in work this Friday'?
This is far too orchestrated to be real, the same sad anti Brexiteer losers and no doubt unemployed or unemployable with nothing better to do than clutch at straws when not so sub-consciously they know the tide is really turning and their near 40 years reign of decadence and wanton depravity on such a large scale is beginning to crack and badly. Again, 90% still oblivious to the fact that 3 generations have been utterly nobbled.
You will not hear the media taking sound bites from Pro Tumpeteers, but they somehow manage to find the 'WE BRIGADE' as if blanket consensus across the nation, which of course is utter bollocks – and Trump is right. Britain anxiously awaits its own Trump, but 98% are scared witless to speak out still. In fact, most who actually like Trump will invariably start their sentence with; 'I don't really like the man, but…….." It is all forced psychology of indoctrination by law. Intimidated to the extreme, we are afraid to be seen as individual of thought. Individuality is perceived these days as all ego and self harmed, crude lunatics who jangle as they spout clichèd rhetoric and given a job on the BBC or Channel 4.
The Lowest Common Denominator, from zero creativity, endless rap, to political parrots.
Not that my own pronoun 'I' has even a quark of value in size when it comes to relevance or influence, but for lack of a better pronoun; 'I' never was enamoured by Donald J. Trump as such. Just a savvy businessman who could fail and rise again, so he must have some nous. Like many, or indeed most now, he astounded me with his succinct perceptions, which just made me think he was so ordinary, a real person and the complete antipathy to the putrid politicians we are manipulated to endure.
I remember 30 odd years ago, dealing with a rather sour Bahraini businessman of huge riches, when I sought sponsors for a section in my radio programme. It was a lean period and a bit of desperation setting in, he offered way below the reality rate to the extent it was beyond an insult and he knew that, but didn't care. He fully expected me to accept the deal because of who he 'thought' he was, saying; 'Take it or leave it'. Then I remembered Donald Trump saying something poignant while being interviewed about his plans for some venture in the UK. He said; 'Never be afraid to say NO when negotiating a deal'. Never forgot it and have used that philosophy ever since.
Observing Trump now, watching how he reacts to the very obvious perverse media and the indoctrinated flock is just heaven. The more they attack, the more he so cleverly rides them to the extent that now, this insignificant 'I' at least believes the man is naturally gifted with great intelligence or simply well ahead of us all by animal like instinct.
'Crowd Funded' – how apt! 25,000 pounds raised to build a very childish (not only literally) plastic balloon? Good game, whatever next! Well so far, double that has been raised to manufacture a Sadiq Khan emblem, but you wont hear the media tell you about that. Besides, a rather hideous and indeed baby level retort, surely the money going towards disaster, medicine or a thousand other good causes would be far more constructive.
Imagine a protest like that: " I am donating 50 pounds to cancer in protest at Trump's visit to the UK'. Might start a new trend…
MPs bitterly complaining to any camera with such duplicity that The Donald has insulted us. Lamentable indeed. Oh really! That is beyond neh neh  neh neh neh pathetic. Well, it is not difficult to insult any single politician these days is it, but they forget that for more than 2 years now, the man has endured endless vile bile from these clothed savages for simply 'Saying it as it is'.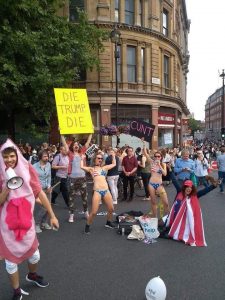 They just cannot take it. Their toys are being taken away from them slowly but surely. Same for those reading this who just cannot get over it, so resort to the same old collective 'WE' bile in every sentence as in speaking for everyone, while deploring those who were actually voted in to speak for us.
'Not my President'…. my arse.,. He is!
Happy National Day! What a wonderfully glittering consideration afforded to cosmopolitan Bahrain, so close to the commeth of Christmas and the time for gifts, drunken parties and New Year wishes with predictions. With Hillary now extinct, new born girl's birth certificates are hurriedly being changed to Milania, her being one among the most well-formed and beautiful women of the world. Yet the main-stream media continues its suicidal, hideously biased and often petty quest at an astonishing rate and Social Media is choking itself. Still, Obama will probably be the second most popular name – over Mohammed in countries like the UK and across Europe while the name 'George' is gaining popularity within the Middle East. We will probably discover new Indian cold stores somewhere in the Universe and Gary Glitter will be released from jail and join the Vatican. Talking of which, on his first day in prison, his cell-mate asked him why his trousers looked so small, to which Glitter replied; 'They're not mine'.
With Trump in, many will be depressed and some on medication under the doctor, or on top in the case of Bill. Boldly and commendably, The Donald has offered olive branches, but one suspects there will be no marriage made in heaven between him and many of his own party, especially Mitt (The Mormon – that's MORMON) Romney. It will be more akin to the tender love expressed between two gays with haemorrhoids.
Trump's victory was a blatant public reaction, a kick in the media's teeth. 'CNN' were and still are on massive doses of Viagra for Hillary as if inciting a violent uprising. They are not alone; 'France 24' openly express consolation for rioters and so it goes. The arrogance is seemingly divine for they never learn. Despite their bloody noses, the BBC high among them, the absolutely pathetic CNN (along with the rest), are not so subliminally wishing for a Donald Trump fatality in the new year; that in between bleating on and on about the heathen Brexiteers. After all, if Donald Trump was such the misogynist, fornicator and grabber of parts the others cannot reach, as he has been 'falsely' vilified to be – and actually does get whacked (God forbid), then imagine the queue of inadequates grabbing the bits listed on his 'donor card'. He can't win either way. If he'd saved the life of a drowning lady by administering CPR, she'd have him in court for pressing on her angina. What a lynch story that would be for the scurrilous, cesspit media.
Talk about indoctrination; even Pidgin English speakers (that will be the rest of the world then) have learned a new word; 'misogynist'. No, not only can't they say it properly, they don't know what it means, but for the record it goes something like; 'If a man talks dirty to a woman, that's sexual harassment. If a woman talks dirty to a man, that'll be $10 a minute'.
Media and advertising in the Gulf is generally so bland, so poor, so biased, so sycophantic and just inane food for the masses, thus the temperate laureates among us take little notice. It is pretty much the same in the rest of the world these days. Each platform or newspaper regurgitate the same old agenda, picking on flaccid nothingness desperate to generate a reaction. As with the giant ego of pop stars and actors who will do absolutely anything for attention, even commit suicide (we wish! Sit down at the back Mr.Limbaugh).
Enter a smattering of smut. If the column began with a gripping story line such as; "I felt shattered, it had been a trying day on the catwalk. I showered and crawled into bed, leaving my bra and panties scattered about the floor. Knowing my fiancé would return any time, I was comfortable and switched off the light. I was asleep as soon as my feet hit the pillow. Suddenly I was awakened by the sound of shuffling coming from the passage. I was drowsy, I tried to focus, I felt vulnerable as I fumbled for the side light; and there he was, this towering three-legged Negro'. Just sayin'.
In fact to improve the old hacks standards, we introduced Betty a couple of months back and she is still on probation. However, she inadvertently left her locker door open and we noticed hanging inside was a nurse's outfit, a French Maid's costume and to our disbelief even a police woman's uniform. Well Mr. Middleton (Chairman) is right to assume that if she can't hold a job down, how long is she going to last here?
So where do we go now? During 'Obama's last stand' back in April, when addressing the smug faces of the journalists fraternity at the "White House Correspondents' Dinner Roast"; 'Roast' being the double entendre, the hacks were mega confident that Hillary would walk it. Nonchalantly swinging his head to one side, Obama came out with; 'Journalism is a respected trade and often requires bravery, integrity and putting oneself on the line. And then there's CNN'! Jeers! Obama was almost funny as he praised Michelle saying that; 'Imagine Trump as President with his First Lady sitting where Michelle is now. It's anyone's guess who she will be…but…' to hoots of laughter. Imagine Trump coming back at him with; 'Don't worry, Michelle is being replaced by an immigrant'.
Next month; "The Great Showbiz Migration to Karnataka…. Sorry Kanada… tch! CANADA!!! The land that wants to ban farting and all reference to it. You just can't wait!
Heard at No.10 Downing Street the morning after the bad hair day Referendum:
Knock knock!
'Who's there'?
'To.. '
'To who'?
'No, to whom! But you can call me Boris!
'How very dare you? Ok Boris get lost and hurry before (Sir- no choice now) Nigel Farage comes knocking!
Astounding as the result was with so much unchecked pro bias across all media and hierarchy, those who see through the haze of 'yuckspeak' spewed forth by the Fabian clans, had resigned themselves to a 'fixed' result. Now the colour blind chameleon skins are working overtime to somehow keep a grip on their well-established Stockholm Syndrome across Europe (as alluded to previously in this column). 'Stockholm Syndrome' is actually the Euro-Fabian written manifesto. Read it! The first few chapters are horrendous, but you love it in the end.
The REMAIN voters were fortunate enough to score what they did and can thank Euro 2016 and the Russian supporters for that. With England being so inept and not actually able to play anything that resembles football these days, sending the same infirmed Fabian selection they've had for the last millennium was an embarrassment anyway. Bobby More making a comeback; six feet to go. Exactly how many more OUT votes would that have been had the BREXIT fans not still been in France breaking the place up and bravado fantasising that they can make mincemeat of the ogre-us Russians in revenge? Of course, knowing full well the pathetic nature of English football hooligans, the Rooskies who have a sporting pastime of urban fist fighting in swarms had sent an assault army of mutant beefcakes blowing intimidating gay kisses as a poofy Euro-gesture at the well-seasoned drunken English yobs before deliberately pasting them. Astoundingly but in typical Euro PC conditioned style, the British media then made heroes of the English Yobs as if so sweetly innocent. On the morning of the E.U. OUT result being declared, Jeremy Corbin (Labour Leader… well…still!) hogged the BBC cameras squirming – and at last made reference to immigration, something that has been politically suppressed with black hole gravity until now. In defence of mass immigration – no, no, no, call it deluded justification, Corbin bleats that millions of Brits were in Europe at that moment. Um…. doing what exactly Jeremy – throwing chairs and paving stones at anyone nearby?
How come Australian didn't have a referendum to leave the EU? As stated last month, they had an entry in the Eurovision Song contest, so what went wrong? Is Scotland still there? During Donald Trump's visit to his Golf Course on which he has spent the Gross National Product of a South American country, the bonny lads and lassies were asking him to save a few bricks from his proposed Mexican wall and send them over as they indeed have their own rebuilding to do. What a conundrum for them; or is it? Scotland by and large wants to be Scottish it seems and always has, which means not being ruled by London or anyone in Europe, so where is this 'contradiction in terms' going now? Their current leader is obviously on some very toxic haggis bi-product with not only delusional properties by highly hallucinogenic too.
'Je Suis IN' was bandied about rather a lot. T-shirts with; 'I AM IN' blazoned across them filling the streets of London. The Brexit crowd running around with magic markers trying to scribble the words 'The Sh*t' under it. The jokes were actually played out in reality with people desperately squeezing into a crowded underground train as the doors shut, squashed but in relieved anguish gasp: 'It's ok I'm in'! Instantly 300 other passengers except one shouts; 'I'm in too'! There are umpteen reports of close-knit family break ups due to opposing views within! Husbands and wives denying conjugal rights because hubby romantically exclaims; 'I'm in' and she vehemently opposing a Brexit has a momentary fit.
Long before the results, the BBC reported that the higher than normal turnout was due to huge numbers of council estates unusually voting. Talking heads even had the condescending gall to suggest that this element mostly voted IN. If fact, then it was probably because they feared not being able to play the EURO LOTTERY if Britain opted out.
As for Scotland, Just do the vote on Twitter. What an inane stream of ego-mad drivel that is and they all think they are funny and contributing to some imaginary intellectual's club and influencing the world at large. Laughing at their own pathetically unfunny non-jokes. With Denmark, Holland and maybe Austria up next, possibly the only funny referendum joke on Twitter and hilarious it was, was the banner tweet from Beirut which read; 'Can Lebanon have a referendum to leave the Middle East'?